2013 - 5th RIMM - 3rd Music Festival of Mirecourt
2013 - 5th RIMM - 3rd Music Festival of Mirecourt
2013
During the 2013 International Musical Meeting, 9 european artists resided in Mirecourt from 19th to 24th November to discover and share the most famous pages of french music beside rare compositions : Chausson, Debussy, Fauré, Milhaud, Poulenc, Samazeuilh, Ravel.
The contemporary composer Edith Canat de Chizy has been honored through a creation written for the Musical Meeting of Mirecourt, called "Cinq Miniatures" and interpretation of many pieces of chamber music. Her piece « Siloël » for string orchestra has driven a priviledged meeting between music teachers of the Music school of Mirecourt and violin making students.
Therefore, 2013 highlighted over the borders, the diversity and wealth of an often unknown register of music. This year has also reinforced the link between artists and violin makers in Europe and Mirecourt.
The 9 artists residing in Mirecourt:
Composer: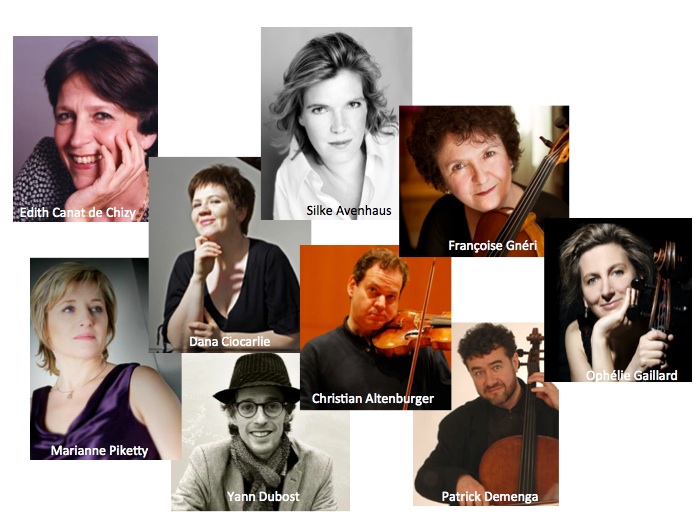 Pianists:
Violonists:
Violist:
Cellists:
Bassist:
 To download:
Press review:
2013-revue-de-presse-rim.pdf
2013 Program:
2013-programme-detaille.pdf
2013-program-en.pdf
Presentation of the 2013 International Musical Meeting of Mirecourt:
2013-presentation-rim-en.pdf
Friday November 22nd – 20 h 30 – cinema Rio : Carte blanche à Yann Dubost
The concert « Carte Blanche à Yann Dubost » has enabled the public to discover the solo contemporary repertoire for double-bass as well as  orignial ensemble pieces.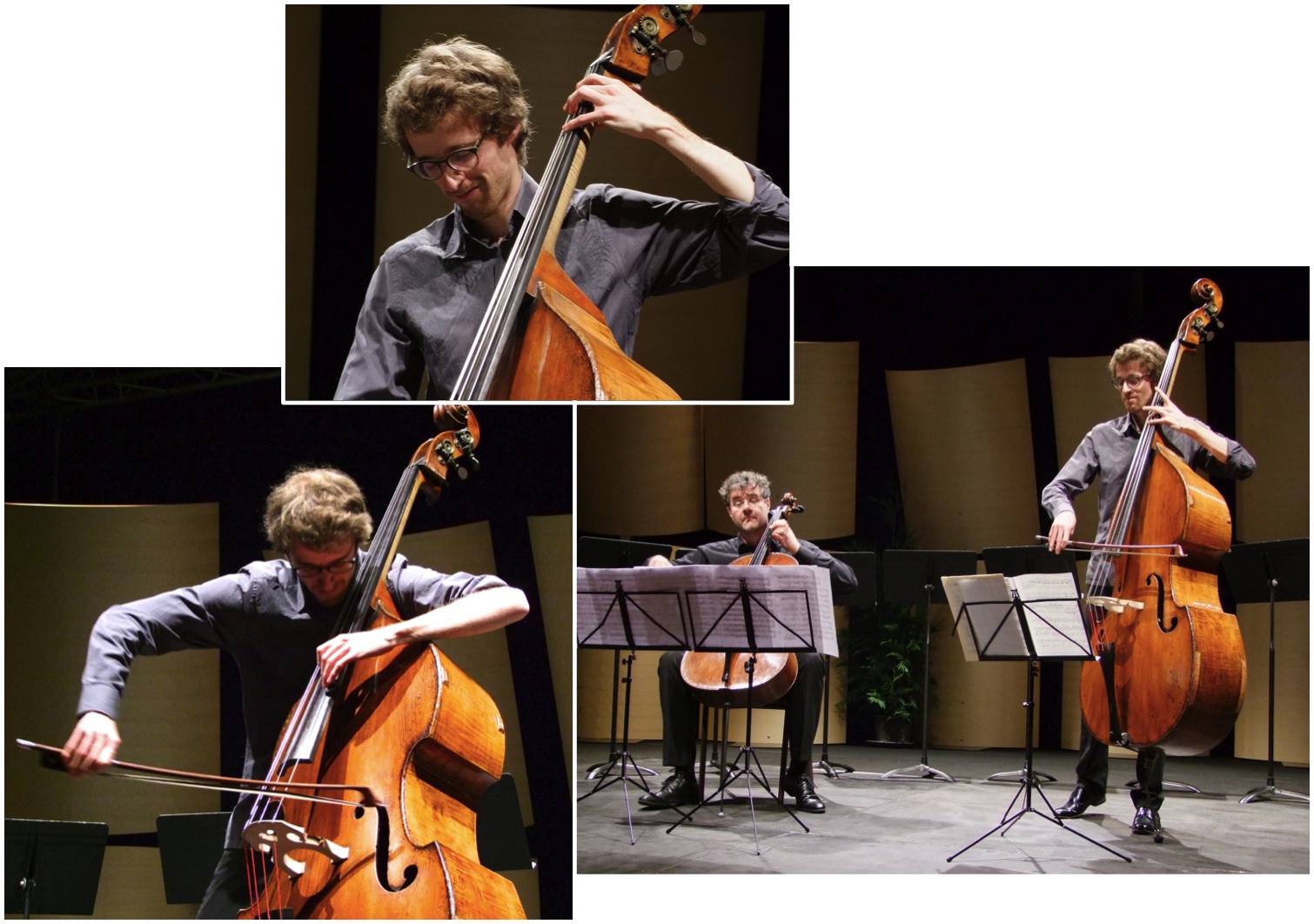 The duo from Bottesini will stay for ever in everybody's memory.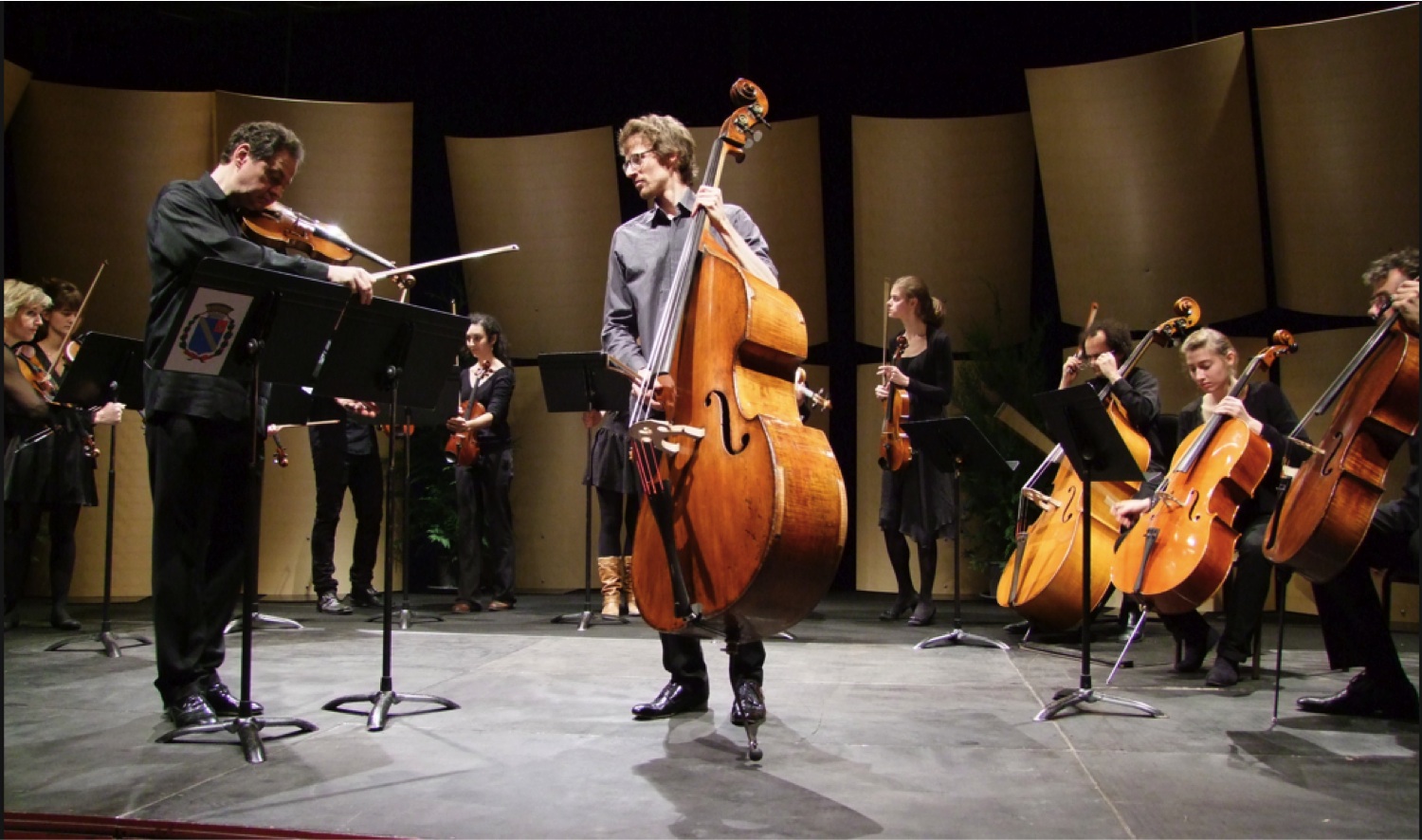 During this concert has also been played the piece "Siloël" from Edith Canat de Chizy for 12 stinged instruments. Six Students from the music school, 2 teachers (violin and double-bass) has joined the artists. It was a real challenge for these young musicians to play in presence of international artists and the composer.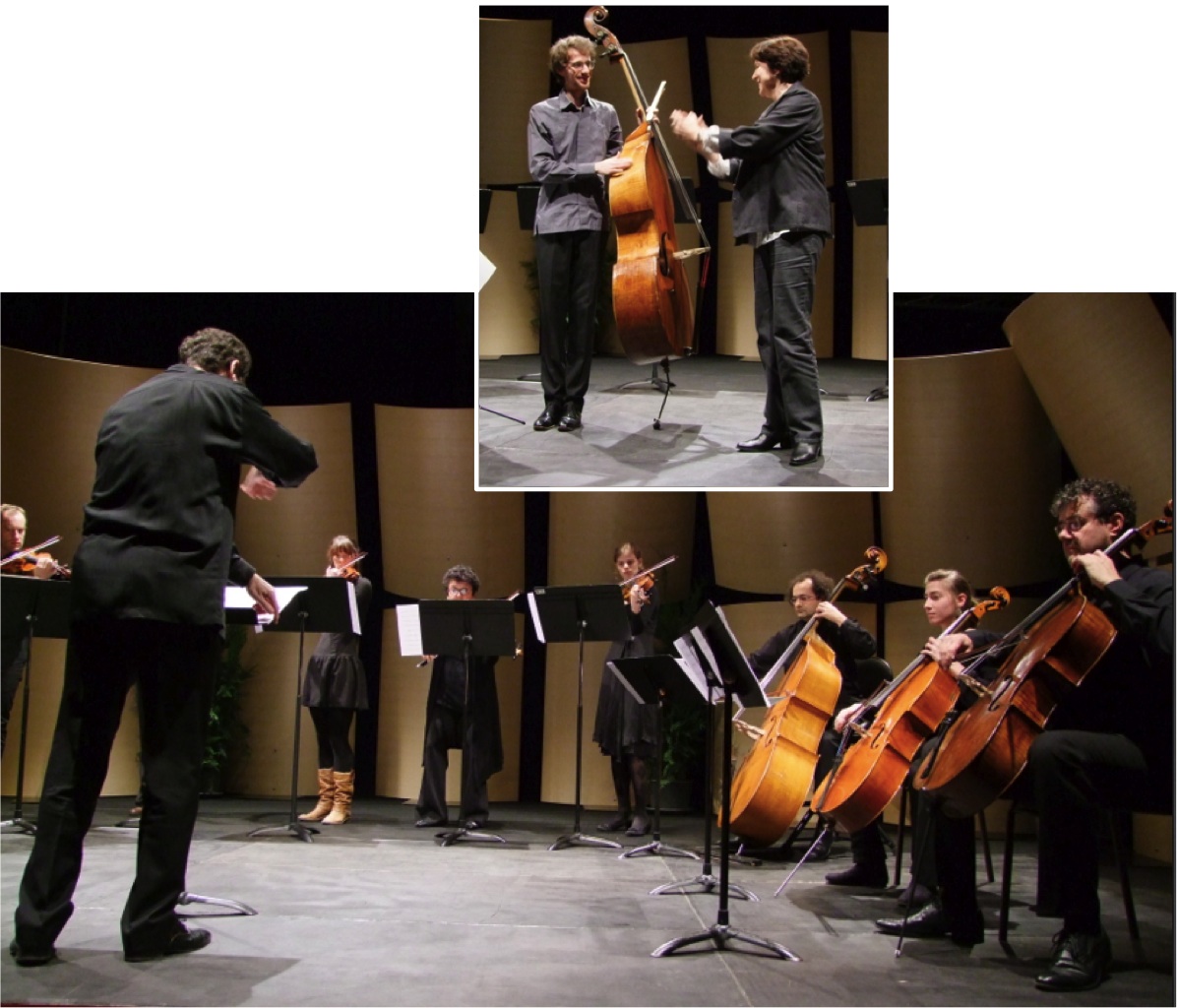 Saturday November 23rd – 15 h – cinema Rio : Concert – Conference with Edith Canat de Chizy 
The main theme of these 5th Meetings was to highlight a current composer. The choice of Edith Canat de Chizy became quickly an evidence. She was herself a violonist and her pieces for stringed instruments are a reference. Her presence in Mirecourt during these Meetings was a must in this project, especially during her conference where the artist could explain her musical and profesional itinerary as well as her choices and artistic inspirations... During this conference, 3 pieces from Edith Canat de Chizy have been played and explained to the public : Falaises, Tiempo and Prélude au silence.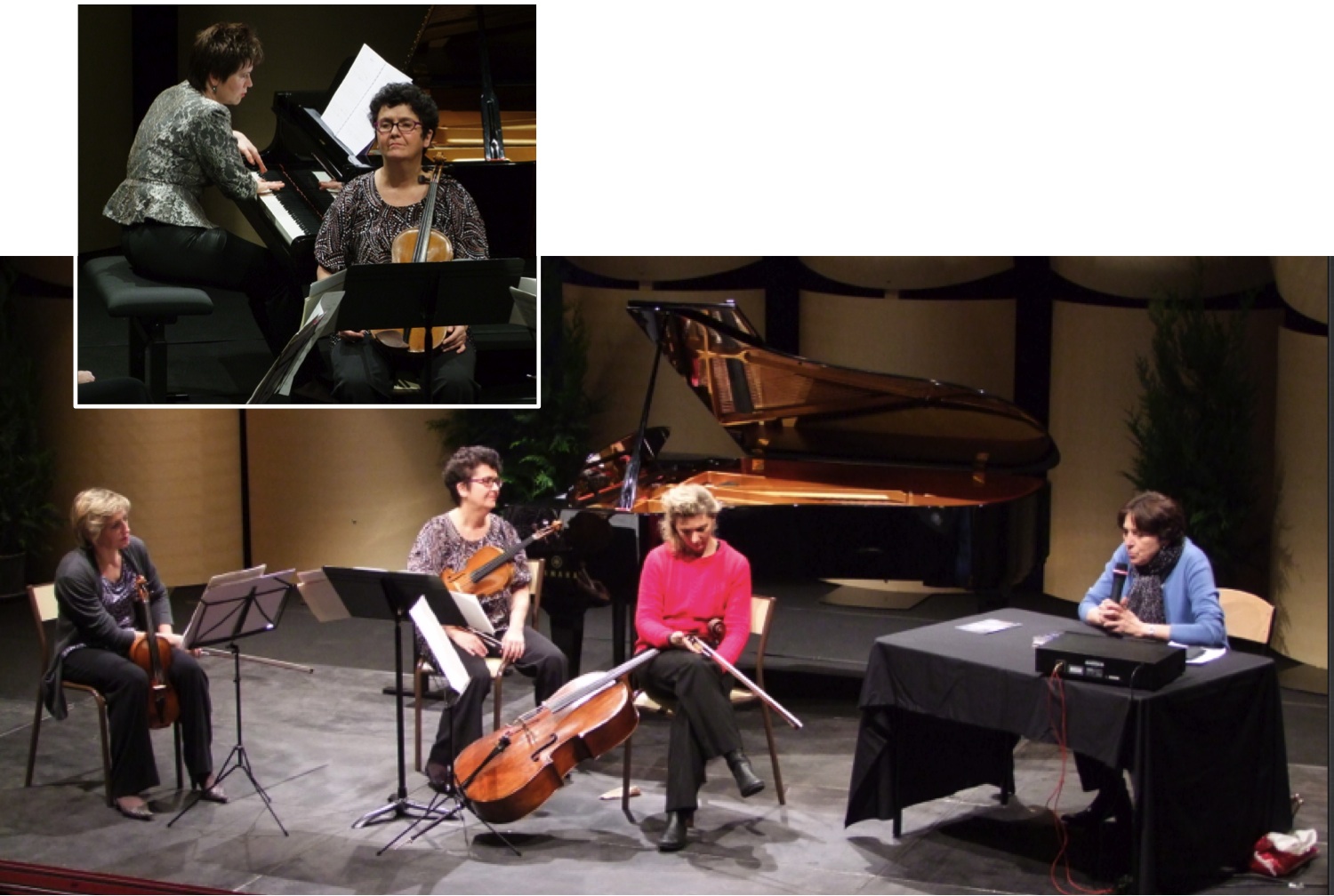 Saturday November 23rd – 16 h & 18 h – cinema Rio : Concerts
To illustrate the conference of the composer, two concerts have been scheduled with pieces from XX and XXI Century (Samazeuilh, Poulenc, Milhaud, Ravel, Chausson). The public could feel the link between the different musical and cultural drivers known during this period.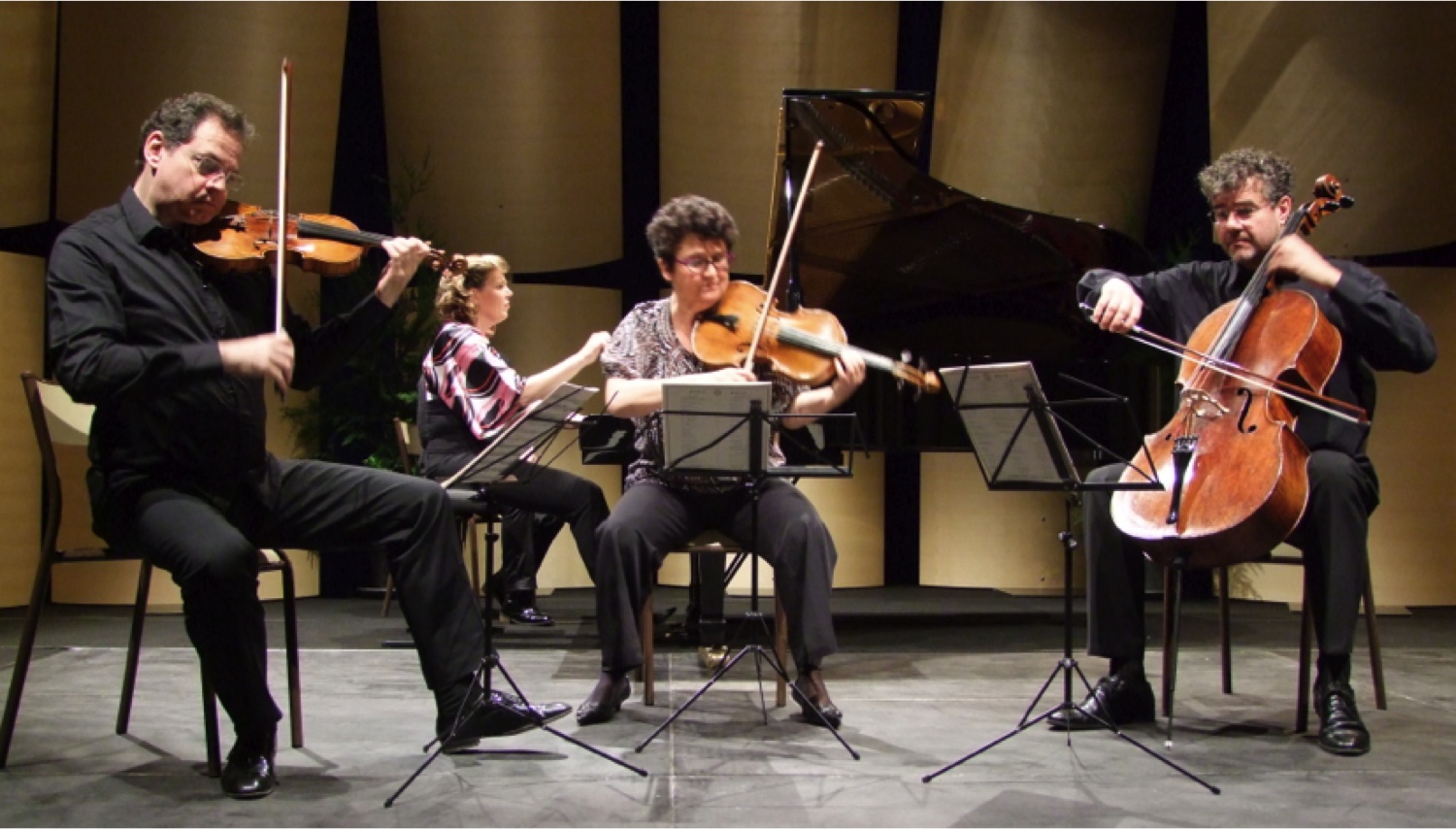 The chosen pieces, more or less known by the public have been a discovery for some people. These highly technical pieces, played with outstanding virtuosity have been a revelation.
Saturday November 23rd – 20 h 30 – cinema Rio : Concert
This concert enabled the public to discover fantastic pieces like  Ma mère L'Oye or Trio from Maurice Ravel, Elégie from Gabriel Fauré and the Sonata for cello and piano from Francis Poulenc.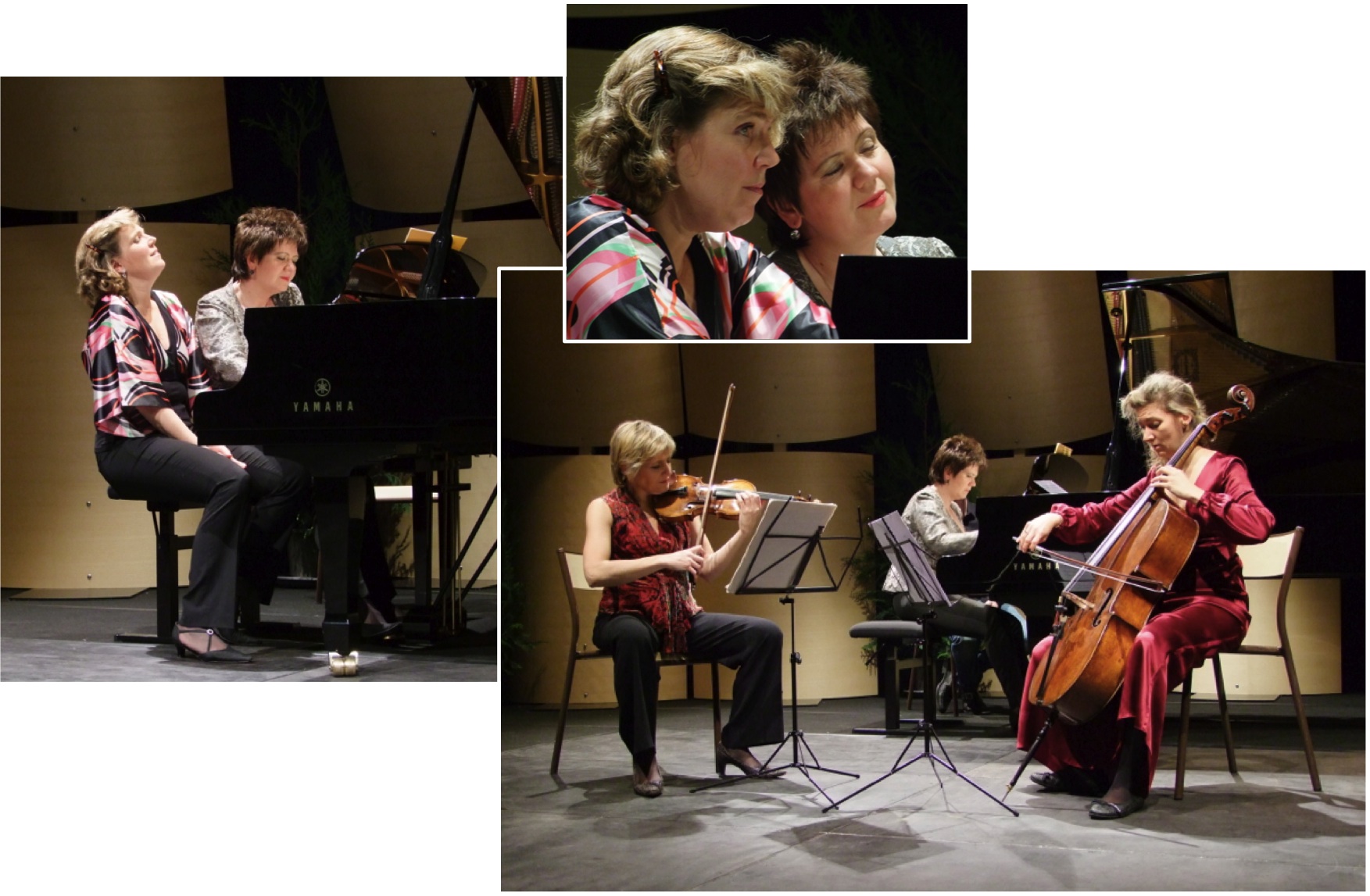 One of the strong drivers of these Meetings has also been the creation of a piece written for Mirecourt and called "Cinq Miniatures". Five short pieces for violin and piano written by Edith Canat de Chizy have been presented to the public and commented by the composer. This piece will be part of the program of the next International Violin Competition of Mirecourt scheduled in November 2014.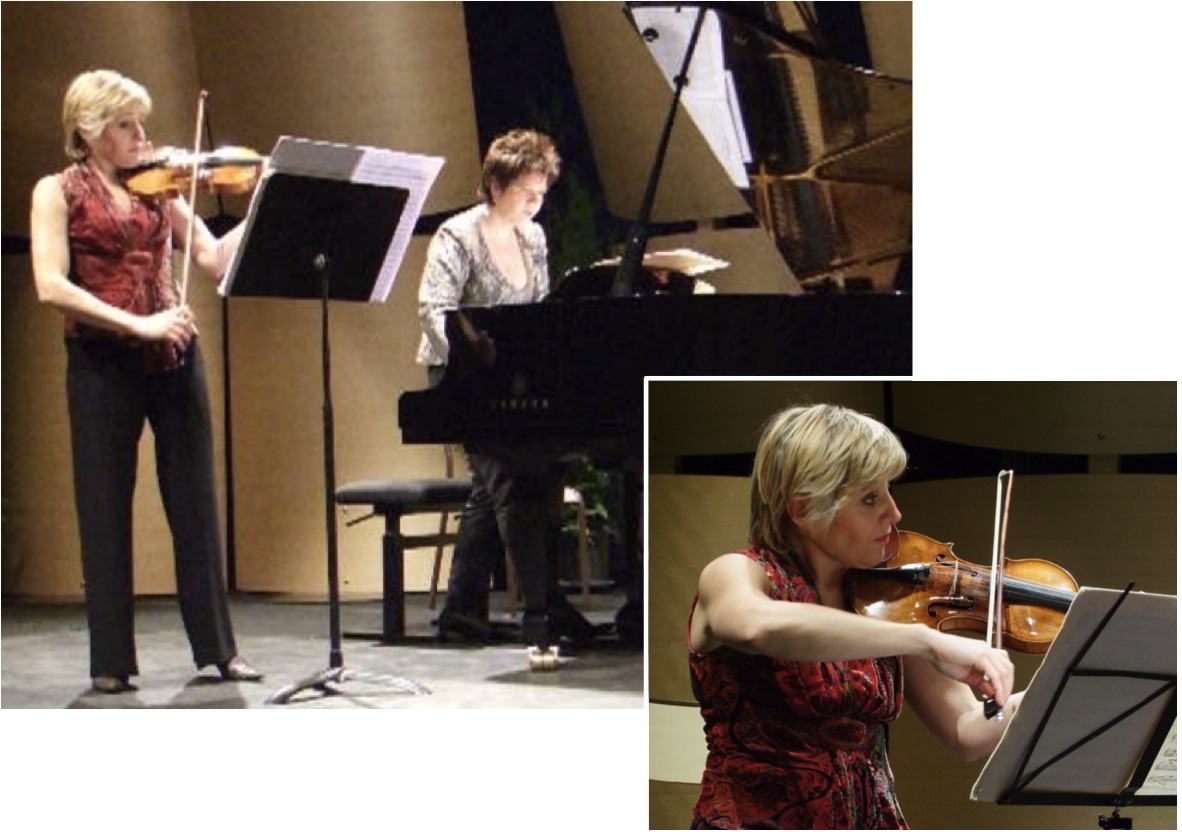 This concert welcame also the profesionnal violin makers who met in Mirecourt that same day for the Sainte Cécile. A friendly moment has been shared between artists and violin makers.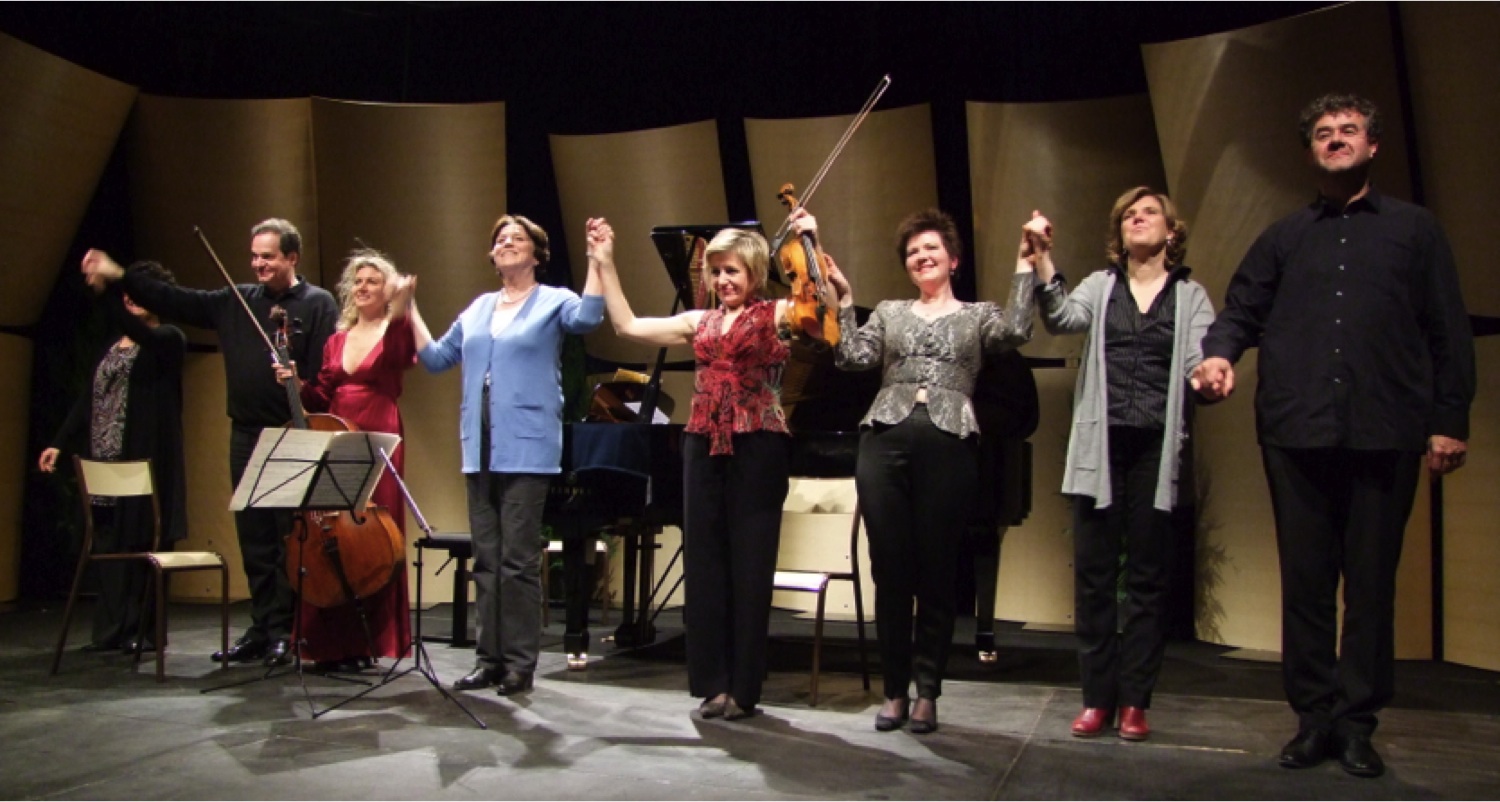 Sunday November 24th – 11 h – cinema Rio : Ending Concert
This ending concert has been for all an outstanding experience. The artist's generosity and enthousiasm went widely over the normal frame of the concert.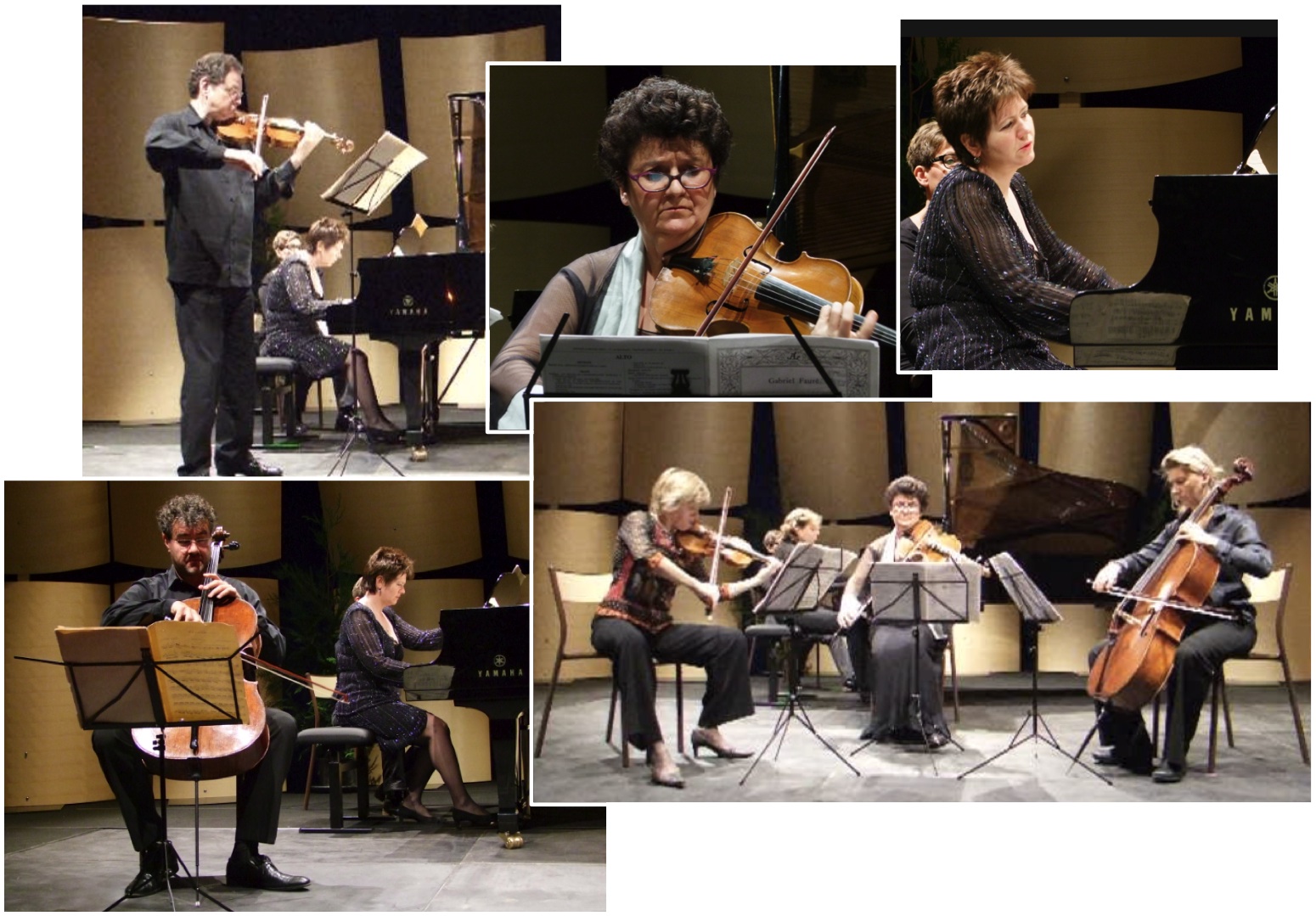 More generaly, the 9 artists present in Mirecourt have been in all points fantastic : presence on stage, availability and kindness to the public, students and organizers.
Le fait de travailler deux œuvres complètement différentes avec les mêmes musiciens était très intéressant. Alors que Bottessini était plus facilement abordable, la pièce d'Edith Canat de Chizy m'a personnellement surprise. Plus je l'écoutais, plus je la travaillais, plus je l'aimais. Et je me suis rendue compte que j'arrivais à comprendre l'univers et l'ambiance du compositeur. J'étais très heureuse de pouvoir découvrir le travail de cette compositrice contemporaine et de la rencontrer à l'occasion des concerts.
C'était une chance que de pouvoir répéter autant de fois et de manière intensive avec des musiciens professionnels qui participaient au projet. Le passage en concert avec eux a été pour moi une grande joie. Ils ont su nous rassurer et nous encourager. Lucile Sanders : élève en DMA 2 (lutherie) et violoniste ayant participé au projet
Quelle plaisir chaque année d'avoir de tels artistes et une telle programmation à Mirecourt !!! Les rencontres nous offrent (à nous élèves luthiers) des moments privilégiés avec des musiciens exceptionnels, quelle chouette expérience! J'espère que cela continuera encore et encore pour les futures générations de luthiers, qu'ils puissent vivre ces moments inoubliables d'échanges et de musique! Un grand merci et Bravo ! Sarah, élève luthière et violoniste ayant participé au projet
Tout simplement le mot qui revient par les élèves est : SUPER. Pour les élèves présents à la rencontre pédagogique avec Yann Dubost : il y a quelque chose de changer. Pour moi, enseignant, c'est un levier sur lequel je pourrai m'appuyer notamment par rapport à l'instrument, la mise en confiance. Tous ont été tirés vers le haut et très impressionnés. Excellent contact et artiste avec qui nous aurons plaisir à retravailler. Hervé Perrin, professeur de contrebasse ayant participé au projet
Merci à vous tous de votre formidable accueil. J'ai eu beaucoup de plaisir à travailler ma musique avec vous. Et j'espère à bientôt. Edith Canat de Chizy (compositrice)
Dear all, I happily join the round of thank yous to everyone, thank you for the perfect and caring organization, thank you Marianne for all your great work in planning this event, and thank you to everyone for memorable musical experiences. It was a great and very enjoyable week, - hope to meet you all soon again! Christian Altenburger (violoniste)
Dear All Thanks for five wonderfull days in Mirecourt. Thanks to the warmheartet organisation team and thanks for the great music we played together!  Patrick Demenga (violoncelliste)
Merci Martine et les 2 Valeries ! À Yann aussi! Et merci Marianne ! Superbe semaine, riche de belles rencontres !!!! Moi aussi j'ai adoré ! Marianne, ton énergie, et ta capacité à tout gérer, toujours avec gentillesse, m'ont sincèrement épatée ! Longue vie à vos rencontres ! Françoise Gnéri (altiste)
C'était une semaine hors du temps et hors du commun que nous avons vécu ensemble. J'ai adoré, je me sens privilégiée et je suis très reconnaissante. Merci encore de tout coeur, et merci de vous avoir connus. A la prochaine fois avec joie, portons-nous bien tous d'ici-la.  Dana Ciocarli (pianiste)
Hundred times thank you for the wonderful time in Mirecourt also from me! thank you to the warm-hearted team. there was lightness and generosity in the air ... and thank you for unforgettable moments of music making. Silke Avenhaus (pianiste)
Des moments de plaisir intense donc rares et précieux. Merci de nous les avoir offerts. Des rencontres riches, sympathiques, chaleureuses firent que l'on n'oubliera pas cette superbe réalisation. Merci à toutes et tous et à l'année prochaine...sans faute ! Patrick
Ces 5ièmes rencontres internationales étaient fantastiques ! Un vrai marathon pour les artistes : 5 concerts en moins de 48h , mais un régal pour le public . La salle très agréable permet une proximité très appréciable pour la musique de chambre et la richesse de la rencontre compositeur contemporain / luthiers / instrumentistes est une idée géniale ; bravo pour la programmation très équilibrée, on ne s'ennuie jamais, on serait bien resté à Mirecourt encore et encore ...! A bientôt ! Nicole
Les 5ièmes Rencontres Internationales de Mirecourt sont terminées ; Elles m'ont permis de partager des moments intenses. Qu'en reste-t-il quelques jours après ? Voici quelques impressions : choix judicieux des œuvres interprétée, découverte d'une musique contemporaine, parfois hermétique, explication de la compositrice sus ses intensions dans ses créations, présentation des oeuvres jouées par les musiciens, prouesse des musiciens pour appliquer en si peu de temps tous ces jeux musicaux, harmonie entre les élèves et les professionnels, rapprochement entre le public et les musiciens, public séduit mais peut-être trop clairseme, organisation et accueil conviviaux. Une parfaite partition jouée en commun, avec harmonie, pour la réussite des ces Rencontres. A pérenniser pour notre plus grande joie à tous. Agnès, une mélomane non avertie ayant suivi l'ensemble de la programmation.